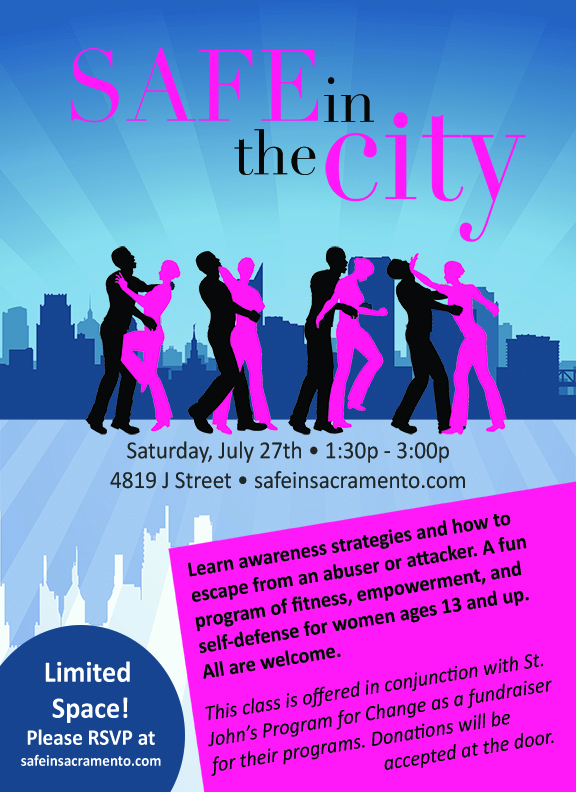 Our Approach
Safe in the City is a 13-lesson course that will teach you how to defend yourself in some of the most common attack scenarios faced by women including being grabbed, choked, or pinned to the ground.
Students can join in at any time, and no previous self-defense or martial arts training is required to participate.
Our Story
The Safe in the City curriculum was developed by Mike Oliver at Zen Martial Arts Center in Sacramento over the course of 3 years. The program is based on research and feedback from the students in numerous women's self-defense clinics and seminars that have been offered over the years, many times in conjunction with local non-profits such as WEAVE, My Sister's House, and Saint Johns Program for Change.
Our Schedule
Safe in the City classes are currently held every Tuesday and Thursday from 7:10 pm to 8:00 pm.
A Typical Safe in the City Class
Every Safe in the City class follows a similar format—Review, Learn, Internalize, Train, and Discuss.
Review. Before every class, we begin with a review of previous material. During this part of the class, new students are introduced to their first lesson.
Learn. Each Safe in the City class covers a core set of techniques used against a common attack type such as grabs, chokes, or being pinned to the ground.
Internalize. After learning the basic movements of a self-defense skill, the correct responses are internalized by using a safe method of scenario-based training.
Train. Fitness is a primary component to becoming Safe in the City and in life. A short, but high intensity fitness routine is a part of every class. Students are encouraged to try their best in a fun and cooperative environment.
Discuss. Every class ends with a relevant discussion on a core self-defense principal such as awareness strategies, how the brain works under stress, stalking, and setting boundaries.
Safe in the City Team
Our team of instructors and assistants are here to serve the community. If we can be of help to you, your family, or your team, please don't hesitate to contact us.
Mike Oliver
"I would hear some very powerful stories—stories of empowerment, stories of survival, and stories of success from returning students."
Chrissy Scott
Include a short bio with an interesting fact about the person.
Next Steps...
The best way to know if a self-defense class is right for you is to try one out. You are welcome to come visit and to try a class completely free!